We work with a number of diocesan schools that suffer from a diocesan-mandated imposition of state requirements.  This post from the weekly newsletter of Jason Adams, Headmaster of Lumen Christi Catholic School in Indianapolis, gives many excellent reasons why Catholic schools should be free from such requirements, so that their life of faith can fully permeate their communities and their work. Jason has contributed to the Institute's newsletter, and has attended our Academic Retreat and our Catholic Classical Schools Conference.
I had the privilege of testifying at a senate committee hearing on state standardized testing policy yesterday. I had the opportunity to touch base with one of our advisory council members Heather Crossin (Co-founder of Hoosiers Against Common Core) and a host of parents and grandparents from around the state who support independent education. I was able to tell Lumen Christi's story, why we value our independence, and why all schools could use a little more independence from state regulation. We have offered Terra Nova testing in the 5th and 8th grade for at least the last few years (8th grade only last year), as simply another measure of student progress. Our students do quite well on those tests, but I am grateful we have no reporting obligation to the state. I am doubly grateful that we do not subject our children to the state testing regimen, which seems to have become an obsession for the state educational bureaucracy of late.
State standardized testing is only a part (a big part) of state regulation of schools. As an educator and administrator, I cannot overstate the value of self-regulation. I have long wondered why private schools willingly contract out their curriculum to secular bodies who do not understand their mission. I have been part of multiple secular accrediting bodies, none of which provided adequate opportunity to integrate religious goals into ongoing professional development and continuous improvement goals.
Our students study everything from the ABCs to advanced Latin, simple addition to Calculus, and story books to the classical and sacred texts: the Holy Bible, Church Fathers, Homer, Shakespeare, Dante, and Chaucer, to name a few. We have our bases more than covered. Every day, I see teachers holding discussions on texts and ideas that would not be seen in secularly regulated schools, especially those concerned with state grading systems and testing-based teacher evaluations. We have the freedom to fully integrate our academic and religious missions so that we have one mission to pursue the wisdom of God in all subjects.
We have a mixture of credentialed and non-credentialed teachers, and they are all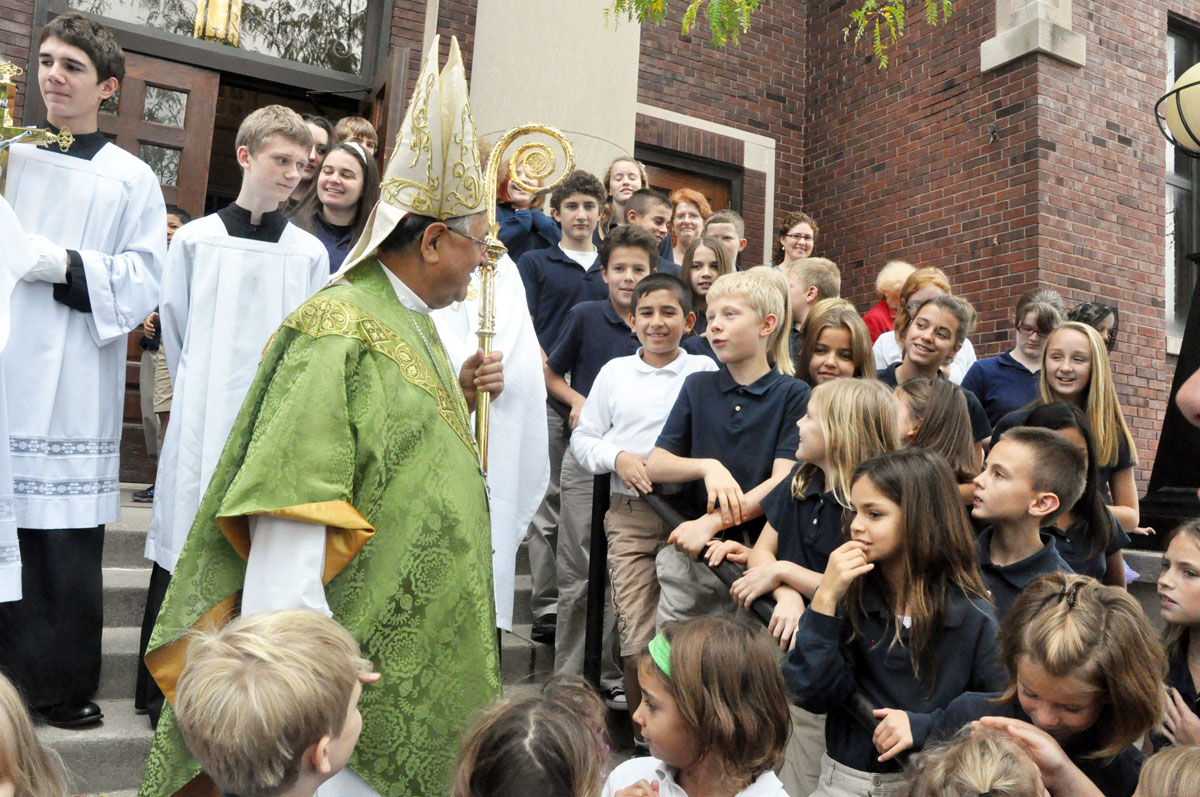 exceptionally talented and caring professionals who embrace the evangelistic nature of their calling. While our credentialed teachers should be proud of their educational and professional accomplishments, all of our teachers excel in the classroom. Some of this community's most cherished teachers would not be with us if we marched in lockstep with state accreditation requirements. In the other schools in which I've taught, those most regulated by state and secular accreditation standards, many a qualified teaching candidate could not be considered because they did not meet state credentialing requirements. More than once, hiring committees on which I sat, were frustrated that the candidate they really wanted had to be removed from consideration.
Here we have the freedom to hire our best fit from among available candidates. We have the freedom to implement content and methods that best fit our Catholic mission, the personalized needs of our classes, and the skills and interests of our teachers. We have the freedom to assess students on an individual basis, knowing the full gamut of our students' strengths and development needs in close consultation with parents. There is infinitely more value in a teacher who knows his students well, contacting a parent to work together on a particular student's need, than there is in any of the popular standardized tests. I've seen this at work in my own family's interactions here, and I've never seen that level of dedication and intervention anywhere else.
Free from the growing compliance demands required by state regulation and secular accreditation, we can operate a lean administration. Bigger, more regulated schools, are increasingly in need of administrative positions (even whole departments) responsible for planning tests, running student test preparation, and administering multiple assessments at numerous grade levels. Add to this the compliance monitoring and reporting associated with a host of big-school operations:
State content standards and funding ∙
Managing athletic schedules, coaching personnel, athletic funding and student athletic eligibility (IHSAA, etc.) ∙
School lunch funding and lunch requirements ∙
Voucher regulations ∙
Transportation regulations ∙
FERPA guidelines ∙
Special education departments who manage literally tens and hundreds of IEPs ∙
Intricate IT and technology infrastructures ∙
Management of large, complex facilities ∙
Complicated budgets ∙
Managing and funding counseling departments, school health clinics, childcare before and after school, and even before and after school meals.
These are only a portion of the managerial tasks facing the increasing complexity of the modern, state-regulated school. It is easy to see how students would become numbers, and how the educational mission of the school could get lost in the shuffle. It is easy to see how teacher collaboration on curriculum would disappear in favor of state formulas.
Lumen Christi abides by a deliberate simplicity so that we can keep our integrated faith and academic mission front and center. Teachers can collaborate with each other and with administration easily, and so we see a high level of co-planning and sharing of ideas. We have a high level of collegiality among teachers. Our teachers know their students well and can adjust their teaching and curricular emphases to meet individual needs.
Our operation is inexpensive and consists primarily in paying teachers, buying supplies, and paying rent on a humble facility. All of our employees make less than employment market value, from top to bottom. They don't talk about unions, benefits packages, or pay scales because they knew when they came here that they were trading some of those things for a teaching experience that cannot be matched elsewhere. That's what brought me here: it wasn't money or authority— it was the chance to serve a school (one of the few schools) that has not lost sight of what's important in Catholic education.
Today's school administrators are like mayors of small cities because schools have become the new nucleus of the culture. We believe something different here, namely, that FAMILY remains the essential and natural nucleus of culture. Since our faith formation efforts are an overt extension of family faith formation, our families understand that the school's Catholicity rests more in faithful Catholic homes than school programs. As a result, our families are motivated Catholics who are on the same page when it comes to vision. They come here because it's a sanctuary of Catholic fidelity and common-sense academic development.
Families come here knowing who we are, and so we attract families that are excited about our unique identity. We do not aspire to be everything to everybody, and we do not wish to imitate schools that have watered down their identity to appeal to the least common denominator. We have a lot of different lifestyles among our families, but we are unified in our commitment to the Creed and to traditional educational values.
Our school offers activities, and may offer a few more in the future, but Lumen Christi's philosophy has always treated sports and extra-curricular activities as secondary to the faith, academic, and family priorities that created and have sustained our school until now. It would be an easy mistake to make (and many schools make it) to over-pursue extra activities, such that they take on a life of their own. When this happens, schools take their eye off the ball, and the environment becomes more about manufacturing an exciting social scene than about learning.
Friendships and camaraderie are organic. They develop naturally from bringing people together who share beliefs and have a common desire to serve one another.